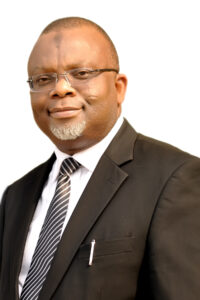 Azeez Alatoye is the Director General of Ascension Academy Institute Limited. He has responsibility for the strategic growth of the learning and development of the Company. Azeez has acquired proven practical experience over 26 years in providing sustainable business solutions to numerous clients in the Oil and Gas industry. Before leading the Academy, Azeez was the Chief Operations Officer of Saffron Professional Services. He was a Partner in Ernst & Young for 2-years having worked at Deloitte for the same period before then. He was in PricewaterhouseCoopers for over 11 years before joining Deloitte where he acquired local and international experience.
Azeez is a Barrister and Solicitor of the Supreme Court of Nigeria, a Chartered Tax Practitioner, Fellow of the Chartered Institute of Taxation of Nigeria (CITN), Fellow of the Institute of Chartered Accountant of Nigeria (ICAN), Fellow of the Nigeria Institute of Management (FMNIM) and Associate of the Chartered Institute of Arbitrators (UK).
He holds Bachelor Degree in Law (LLB) from the University of Bradford, United Kingdom and Higher National Diploma (HND) (Unique Distinction) in Accountancy from Kwara State Polytechnic, Ilorin. Azeez is a Board Member, National Taxation Standard Board of the Chartered Institute of Taxation. He was the immediate of Dean, Faculty of Oil, Gas and Solid Minerals Taxation of the Institute. Azeez was a member of the Research & Technical Committee of the Chartered Institute of Taxation of Nigeria, a member of the Finance & General-Purpose Committee, Chairman of the Computer Sub-Committee of the Institute.
Azeez is a paper presenter both at home and abroad, the recent of which are on Professional Ethics, Dynamics of Successful Practice Management, Petroleum Profits Tax, Taxation of Digital Economy, International Taxation and Improving Tax Compliance and Internally Generated Revenue.